EXCITED
kiddos up and moving around
the room and learning, I do it!
There are 3 Top Secret file folders
per item,
with 12 total file folders
for each
recording sheet!
Click here to check it out!
We are currently working on
Monday and will add pictures!
We will do these activities
whole class. Students will
dial a partner (see here)!
This could be a center though!
The first 3 people
to comment & leave
your email will get it
FREE!
Congrats Khrys, Josie & Becky!
I hope your kiddos like it!
2. I LOVE chocolate!
It is my weakness for sure,
but let me tell you...
these cookies are....
AMAZING!!
I made these today on
my
SNOW DAY!
Frosted Banana Cookies
Click here for the easy recipe!
3. We did a lot of President's Day activities!
Check out this post to see all our activities!
There is also a freebie for a shape activity!
4. The kiddos are enjoying the snow!
We haven't had any for quite some time!
I'm enjoying lounging in the pjs!
5. This hasn't happened yet but
my in-laws are celebrating their
50th anniversary tomorrow!
50 YEARS!!
We (their 5 kids & significant others)
are having an open
house for them
and will be going out to dinner!
Two of the most wonderful people around!
One last thing!
Stacy at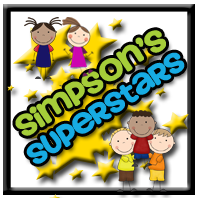 is having a giveaway!
Stop by to enter to win
a
fun math game!
Random Picture
I did a post when I first started blogging
about my star of the week.
I didn't know how to turn pdf into jpegs
so I couldn't include this idea.
Now I do so I wanted to share it!
I have my students write a letter to our
star of the week and I turn them into
a "magazine" for the student to keep!
Click here to see more ideas!